Enable Integration with Insightly CRM
Apr 08, 2020
3042
Insightly CRM integration benefits:
1. View the visitor information from Insightly.
2. Create leads or contacts in Insightly during an ongoing chat.
3. Create leads or contacts in Insightly from chat transcripts.
4. View the statuses of each lead or contact.
Note: This integration is available on all plans.
Pre-requisite: Lead or Contact creation requires e-mail id or phone number of the visitor.
How to integrate?
1. Login to your HappyFox Chat account.
2. Go to Apps >> CRM >> Insightly.
3. Enter the API key from your Insightly account and Click Connect button to integrate HappyFox Chat with Insightly.
4. On a successful connection, you will be shown a message that 'You have successfully connected to your Insightly account'.
5. Update your preferred settings under "During Chat" and "On Chat Completion".
Note that these settings apply to Offline Messages as well.
6. Click the Update settings button to save all the settings.
During a chat:
1. View customers' lead or contact details from Insightly CRM. On clicking the lead/contact, you will see the lead details in the chat information box.
2. Create leads or contacts manually on Insightly CRM using command key - "!" key on HappyFox Chat or type in !createContact or !createLead.
3. Create duplicate leads/contacts for the same customer during a chat. Even if you have created lead during the same chat.
On chat completion:
1. After a chat ends with a new or existing customer, leads/contacts are created on Insightly CRM automatically. This lead/contact will be assigned to the staff who handled the chat if the same staff with the same email id is present on the Insightly CRM. If not, the created lead/contact will be assigned to the person whose email id was used for integration.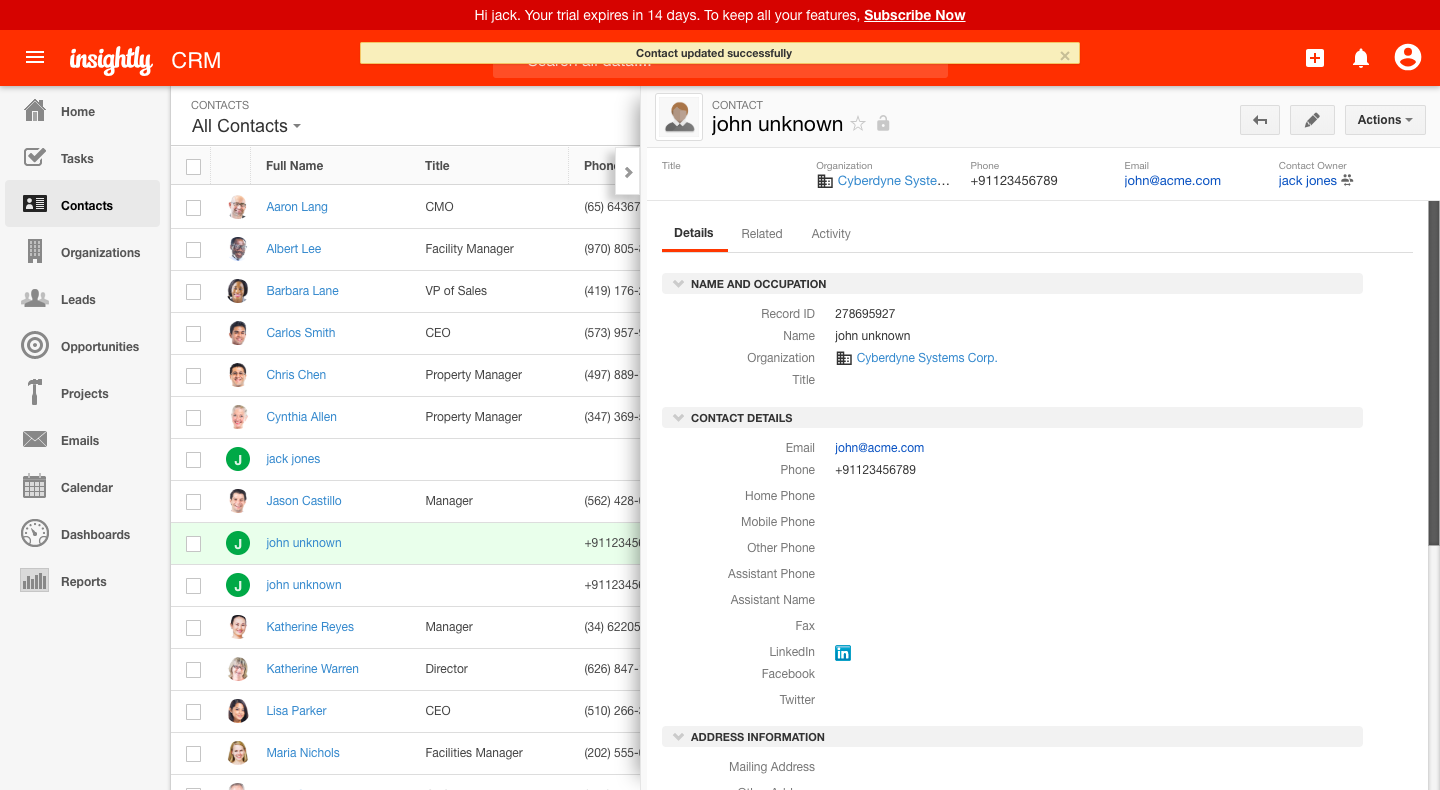 2. The chat transcript will be added as notes or activity or cases to each lead/contact.